He's Completely Trolling This Prom Picture
It's always important to be aware of your surroundings before taking a photo, especially if you plan to post it online. Unfortunately, some people don't realize this until it's too late. As a result, they end up with some hilarious (and embarrassing) photos.
These girls are taking an epic prom photo, but one person doesn't care about it. So, they prank their sister by getting a photo taken while eating from a bag of Doritos. The photobomber was the center of attention, despite the beautiful girls in the front.
Golf Cart Topples Over
While everyone should've been looking at the golfer in this shot, they were too busy reacting to the shock of the golf cart flipping over in the background. This looks like something that would happen in a series like Modern Family.
It would definitely be Phil driving the cart and he'd be up to his usual antics while his father-in-law Jay plays golf with his buddies. You can imagine it too, right?
The Truth Is Right Behind You
One has to be very careful about the background when taking selfies. This guy forgot that he was standing in front of a car window while taking his own snap. Of course, he pretended that someone else was trying to click the snap and he was being camera-shy.
But, the window in the background had a different story to tell. It exposed the lie and clearly showed that the guy was in fact clicking a selfie. Poor guy! He was trolled brutally online for this photo.
Beware of the Photobombing Stalker
We all have that friend who constantly posts photos of themselves on social media. The one who seems to be in a new place every other day with their loved ones? Well, even they might not be cautious while clicking their snaps. So, what will be the result?
A photobombing stalker like the one in the picture! While taking a cute photo together, the couple fails to notice a weird-looking girl standing on the other side of the storefront. Maybe she's just jealous of their love and happiness.
The Hockey Player Who Tossed His Cookies
We've all been there – taking a photo and not realizing something embarrassing is happening in the background. But most of us don't have to worry about our photos going viral. Unfortunately, that is what happened to this poor hockey player, who was caught in the midst of tossing his cookies.
There may not be a ghost in the picture, but the kid on the left is definitely going all Linda Blair from The Exorcist. The kid below him has no idea he's about to get a massive shower from the sick hockey player above him.
A Portal to Another Dimension
The woman in the foreground wanted to show off her expensive dress, but she didn't care to remove the mirror from the background. Mirrors, it's said, never tell a lie. Just at the moment when the snap was clicked, a friend of the woman entered the house and waved enthusiastically at her.
It was captured as a perfect shot, where the woman in the front is all smiles, while the one in the mirror is exuberantly waving. Some people on social media went to the extent of saying that the mirror was a portal to another dimension.
Cats or Humans?
In today's age of social media, clicking personal snaps requires professionalism as they'll likely be posted online. Unfortunately, some people forget to check the background and they end up capturing something incredibly funny.
For instance, the people in the background seem to have emerged from the red hat. If you have a vivid imagination, you may also see cats messing around a cat tree. Or is that just us?
Schumer's on Judge Judy
Seeing celebrities in court is nothing new, but actress Amy Schumer appearing in the audience on Judge Judy is unusual. We still can't figure out how Judge Judy and Amy Schumer came to be together on one screen. Clearly, she wasn't supposed to be captured in the same frame.
Maybe they knew each other beforehand? It was hilarious when Judge Judy asked if she was famous. It, again, establishes that the backgrounds should be adequately checked before posting the snaps.
Chewbacca's in the Restaurant
Let's take a look at the animal lurking behind these people sitting at a restaurant. Isn't it just like Chewbacca from Star Wars? Actually, it was the back of a woman's head. Yeah, we were surprised too! How did he get there, and what is he doing?
The internet had a great time watching Chewbacca standing behind the unsuspecting woman. In the world of instant fame, people are out there to prank each other. One should be extra cautious about such pranksters lurking in the background, ready to photobomb your latest social media post.
Here's Waldo!
Waldo, the iconic children's book character, has been found – in a photo on the internet. But he's not alone, he's behind the bald man in the back of this restaurant. To make things clear, he's been out of hiding for a long time and has grown tired of being searched for.
So, to entertain himself, he decided to appear in public places and was caught on camera during one such escapade. It's all due to a couple of men in the snap who've posted the photo without checking. The result is hilarious!
The Llamas' Hungry, Too
We've all been there – caught up in the moment when we snap a photo without checking the background first. Usually, it's not a big deal but sometimes, it can lead to some seriously hilarious results. For example, in the picture, a llama patiently watches the ostrich eat so it can grab a bite from the driver's bowl.
But in the background, a little girl in the rear seat of the other car is crying hard (as if she wants to eat something as well). Not to mention that the expressions of the ostrich add to the humorous effect, as well.
Voldemort's Tanning
We all know that person who spends too much time in the sun. They're the ones with leathery skin and age spots. While there's nothing wrong with getting a little sun, if it is Harry Potter's arch-enemy Voldemort taking a tan, people will surely notice it.
People on social media absolutely loved this photo! It was hilarious to see Voldemort in the open among common people. What made it even more enjoyable was that the beautiful women in the snap had no idea about it.
Weights Before Dates
Sometimes, you just can't help but wonder how some people's minds work. This father-son duo looks perfect together in the snap. However, if you look at the background, you'll see a man wearing a t-shirt with the slogan "weight before dates".
He grabbed the attention of internet users, who found it very funny. Indeed, there are better ways of reminding oneself about the importance of fitness.
The Cat's Thirsty
We've all been there- fumbling with our phones to take the perfect picture, only to realize a bit too late that something is embarrassing in the background. Apparently, this teen forgot to check the background of his photo before posting it online and people were in stitches after seeing it.
Judging by the looks of it, this teen might have been taking a selfie before prom. However, his precious old cat can be seen sitting by the toilet trying to drink out of it. The cat in the back was obviously thirsty!
Beware of the Creepy Kid
This one is pretty self-explanatory. We've all seen photos of people with a creepy kid in the background, just staring at the camera. Though this photo will most likely make these women remember their fantastic day together, the look of pure evil and glee on the little kid's face behind them will make the experience unforgettable.
So, next time you're about to post a photo, make sure you quickly scan the background first for any such photobomber. You never know what you might find!
Positive Thoughts Only
Sometimes, people have amazing thoughts. These thoughts could give rise to great plans and ideas. This guy here definitely seems like he has a positive mindset and as the growth of the plant on his head suggests, he's giving birth to some brilliant ideas.
Yes, we know it's just a perfectly positioned selfie but what's the harm in thinking a little differently? Also, he could be a man of great ideas.
Not Her Legs
There are two little girls in the background who seem to be bored and sitting quietly. One of them is even sitting with her legs folded. Oh, wait! That's not her leg, it's a sweater on a chair.
It's interesting to see how an image can create such an effect when it's taken from a certain angle. This one is a total head-scratcher but squint your eyes and it still looks like it's her leg.
Kiddy's Got a Kitty Tail
We've all been there – you're trying to take a cute photo of your kid, but they just won't sit still. So you snap a quick picture and post it online without checking the background first. And that's when you realize a cat tail in the photo. Oops!
The kid looks like cuteness personified in the specially knitted outfit. But the cat of the house just decided to be at the wrong place at the wrong time. She got in the picture by sticking her tail upwards. As a result, this picture gives the impression that the kid has a bushy tail.
That's Definitely Not Ronald
We've all had that experience when we're in a hurry to post a photo online and we forget to check the background. Usually, it's not a big deal, and no one notices. But sometimes, it can lead to some pretty hilarious results.
For example, this photograph shows a couple getting their picture taken. You would say it's pretty standard, but the clown in the background creates the problem. In the background, a clown is seen riding a car as if he's decided to stalk the teens wherever they go.
He Reported Fake News
While scrolling through social media, you'll sometimes see a headline that seems too good to be true. So, of course, you click on it. But then, the background gives it away. You realize that the story is entirely fake!
You feel duped and a little embarrassed, but hey, at least you're not alone. The FOX 9 reporter insists that the party's over, but the guys in the background beg to differ, as they're still partying hard.
Toddler's Head-Twisting Photo
Checking the background of photos before posting them online is essential, especially if small children are involved. In the background, the guy is bent over at the precise moment that the kid in the foreground raised his fist.
Because of the distance, it appears that the toddler was grabbing this man's head and spinning it. Clearly, a lesson learned is to be careful about the background of all photos you want to post online. Although a little weird, this photo was still extremely popular online.
Caught in the Act
Have you been caught in the act of doing something you weren't supposed to do? Of course, but when you're caught red-handed, there's usually someone there to witness it. Unfortunately, this poor soul was caught in the act while some women were taking a photo.
When one of the bathrooms is used by both genders, no one wants people to know what's happening. This ended up being pretty unfortunate for the lady caught coming out of the wrong bathroom. The worst part is that the picture was then put online.
Once You See it, You Can't Unsee It
You're about to post a photo online, and you think it looks great. But then, right before you hit the button to post it, you realize there's something in the background that you totally forgot about. A man in the background looks relatively tiny because of the optical illusion.
What's more awkward is the fact that he appears to be sitting on the woman's back. These women definitely wish they'd taken another look at their photos before posting them for the world to see.
Sinister Bunny
The person taking this photo has good photography skills that are on point, but they probably should've taken a closer look at the background of their photo before posting it online. It looks like there's a sinister bunny lurking behind them! See what we mean?
Well, someone's peeping at these kids right through the bunny's mouth! It's a good idea for a future horror movie, however, such a bunny is undoubtedly not a good option for a background.
When You Realize It
You've just posted a photo online and think it looks great. But then you realize, too late, that there's something in the background that you didn't notice before. Something similar happened to these young girls taking selfies for their social media.
There was an unexpected guest in the background. The humorous part is that one girl noticed it and became extremely scared (we hope the spider wasn't). The good thing is that they didn't delete the snap, and everyone had a good time.
Oblivious Umbrella Man
It's hard not to go 'Awww…' when you see the kid in the background standing with his mouth open trying to get a perspective photography shot. The man with the blue umbrella clearly seems oblivious to this.
Also, from this angle, it seems like the water is actually falling on the man's head rather than the kid's. It's probably why he's opening up the umbrella, to try and save himself.
Keeping a Secret Is Tough
Some friends find it very tough to keep a secret. The moment they learn something, they need to share it with the entire world. If you prohibit them from sharing, they find ingenious ways of doing it. On other occasions, they're clueless about keeping things under wraps.
The person who posted this picture wanted to share that the gender reveal of the baby would be done the following day. However, they were too careless and didn't blur the gender details at the top of the sonogram. The world, it appears, is full of careless people.
Photoshop Can't Hide Everything
Some people like to have an excellent social media image and will go to any extent to maintain it. But, there are still others who want the easy way out. Any guesses about what's the best friend of such people? It's Photoshop!
Apparently, the woman in the picture tried to Photoshop herself to fame, but internet users quickly pointed out that the door in the background was completely warped. The lady tried to shift the blame to filters, but, as you can see, it was useless.
Big Dog, Small Dog
We've all been guilty of spending hours looking at cute dog videos and photos. This is another one of those times. This black dog, let's call him Bruno, seems to be lost in thought. But look at the whole picture and you'll see another dog in the background.
From this angle, it seems like Bruno is going to gently nudge the brown dog off balance and probably bark saying, "Stop spying on the neighbors!"
Liar, Liar
The lady in this picture belongs to the category of people who want to maintain their social media image. She wanted people to believe her concern and distress with the increasing traffic.
So, she posted her snap, showing her in a car waiting patiently for the traffic jam to clear. But the reflection in her sunglasses revealed an absolutely clear road, and she was holding a phone in one hand and a coffee in the other. Life can be tough on a clear road!
Time Travel
Time travel is science fiction, although many of us love to believe that one day we might be able to achieve it. But in our daily lives, we experience things at times which are sheer coincidences.
One such thing happened with the gentleman in the picture, who took his selfie only to capture another similar-looking older man dressed up exactly like him. It was like looking at a future version of himself! So, the selfie became a medium for time travel for this man.
Check the Background
Someone hiding under the bed is a perfect horror movie trope. In the age of selfies, this someone has shifted from under the bed to behind the curtain. The girl in this snap has captured a perfect click, unmindful of the fact that someone is in hiding behind the curtain.
Once you zoom in to see the expression in the eyes of the intruder, it's good enough to scare the life out of you! We're sure the girl will check her background before clicking a selfie next time.
Caught Red-Handed or Red-Legged?
The man in the picture is so desperate to have a public image of having a girlfriend that he decided to post a picture of himself sleeping, along with the caption that he hates when his girlfriend takes pictures of him while he's asleep.
He was quick to post it online but forgot that the mirror in the background revealed the truth that he took the selfie. At least he got some credit online for his skill of taking the selfie while holding the phone with his legs.
Photobombed by His Girlfriend
This man in this picture was photobombed by an over-enthusiastic girlfriend who tried to take her selfie in the background when he was getting his photo taken with his friend. The twist is that his friend was a dog, not a human being.
People quickly pointed out that caring for the dog is one thing, but ignoring the girlfriend for it is altogether different. However, some were very appreciative of the girlfriend, who didn't take any offense and was happy taking selfies on her own.
Swing Shot
Some people are influenced by superhero movies and like to do everything like their super role models. Children constitute a sizeable chunk of that fan base. In this picture, the children can be seen dressed up as superheroes while playing with their grandmother.
The hilarious thing is that the girl on the swing decided to replicate her favorite superhero and hung upside down while swinging. It was a perfect swing shot, proving that the loyal fans would go to any extreme to follow their heroes.
Father, Son, and Dog
In this picture, the father and son are having a perfect selfie moment until their loyal dog decides to come into the background. The timing of the selfie and the dog's positioning is such that it appears it's grown on the kid's head – instead of hair!
Pets can photobomb selfies big-time! It's become a memorable photograph for the family, and when the kid grows up, he'll have a good laugh seeing himself with his father and pet dog in this picture.
A Rat in the Clutter
Some people are so obsessed with taking selfies that they even flaunt the clutter and mess they create. One such person is the girl in this photo who looks fabulous but is standing in the midst of a room full of clutter.
A sharp-eyed viewer could detect a rat in the clutter when the woman posted this picture. She received a lot of flak for not maintaining cleanliness. Some were even worried about her health, living in such untidy surroundings. While some were funny enough to wonder if the rat was a pet.
The Cutest Photobomber
It's rightly said that some people develop early in their lives. They come across as extraordinarily talented and go on to achieve great things in life. The kid in this picture appears to be on the path to becoming the greatest photo bomber ever.
Her mother tried to take a photo, posing in front of the mirror, holding the baby in her arms, but he was up to his antics. He came in front of the camera with a curious face, and here we have the cutest photo bomber ever!
Photobombed by a Superhero
The man in the picture has a ripped physique and is an ardent fan of Batman. So, when he saw the Batmobile, he couldn't help but flex his muscles in front of it. Another person, dressed up as Batman, standing in the background imitated him to perfection.
The snap looks extremely funny with the fan in the front and the superhero at the back. It must've felt good to have been photobombed by his favorite superhero.
Sneaky Bean
This may seem like the selfie of an ordinary man and it is. But when you see the face of Mr. Bean in the background, you won't be able to unsee it.
It almost looks like he's sneaking up on this poor, innocent bearded fella in classic Mr. Bean style. Okay, we're off to the online store to purchase such a sticker for our homes, too.
Mind Your Head
Vacation pictures have become so popular that even amateurs have expert-level skills in clicking snaps. But at times, someone enters into the background at the last moment, photobombs the snap but creates a good memory.
In this picture, the focus is on the man in the foreground, but our attention is drawn to the poor guy in the background. The cyclist hit the lamp post head-on when the snap was clicked. The overall snap is hilarious though.
Leave the Kid With Dad, They Said
A picture is worth a thousand words, but sometimes those words are: What were you thinking? While this hunky man is in the foreground, the father in the background appears to be performing some sort of gymnastics with his kid.
They're just kidding around and this is probably the kid's early training sessions. If this father is also as dedicated as the Williams sisters' father, this kid will also reach the Olympics.
News Reporter Twinning Live
We've all been there – you're about to post a photo online and you can't help but notice the perfect timing of your photo. But then, you realize that there's something in the background of your photo that you overlooked before.
It happened in this photo, when TV viewers watching Mustafa Barghouti may have thought they were seeing double when they observed the TV behind him playing the live news report he was doing. So next time, he'll ensure that the TV behind isn't tuned to the same channel.
There's a Truck in Game of Thrones
Game of Thrones is one of the most popular TV shows and people are obsessed with it. However, one eagle-eyed fan noticed something odd in a recent episode – a truck in the background. In this screenshot taken from behind-the-scenes footage of Game of Thrones, you can see a modern-day truck in the background.
Naturally, we want to know if any people were dismissed for their blunder. Whatever happened, a modern-day truck in the background of Game of Thrones is a real oddity.
The Craziest Moments Captured by Google Street View Cameras
Tokyo Birds
Japan is definitely home to some weird things. But, just how weird? Just have a look at these pigeon people. Technically speaking, these people are wearing pigeon masks. Still, you have to admit that it's very creepy.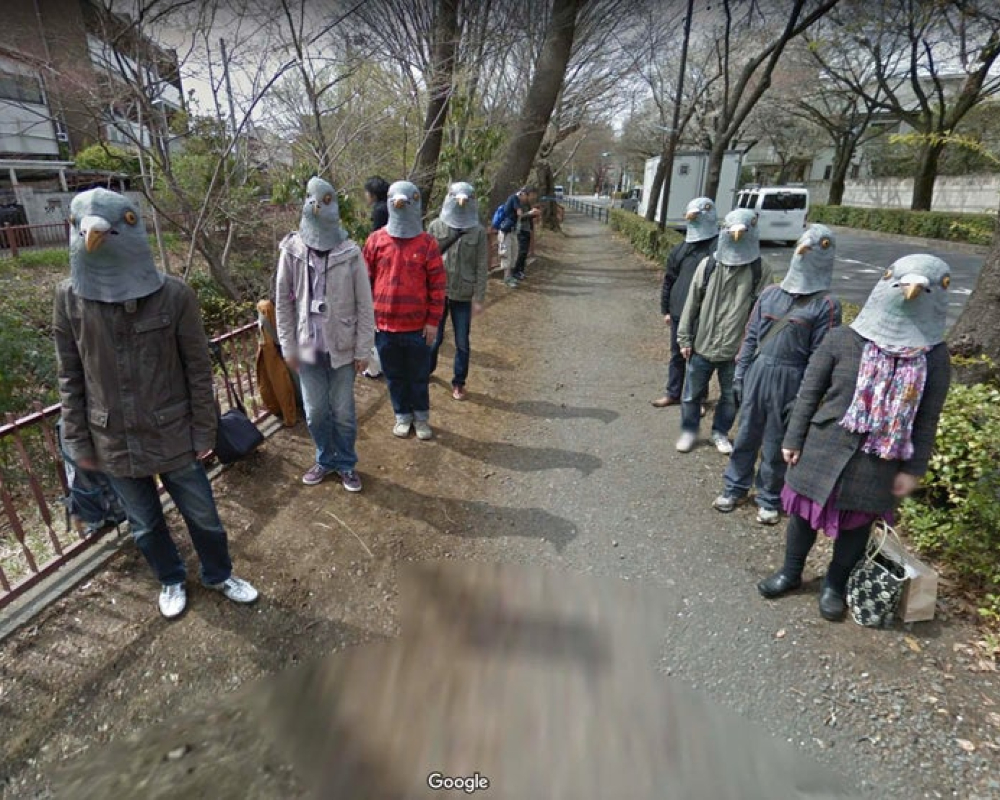 They're standing in two rows on the sidewalk, as if they're waiting for a command. What were they planning to do? Take over a building and start a revolution?
Mobile Dental Clinic
These two fellas may have been on to something here. Just think about it — a mobile dental clinic where all dental solutions are on the go. This picture was taken in Dhaka, Bangladesh.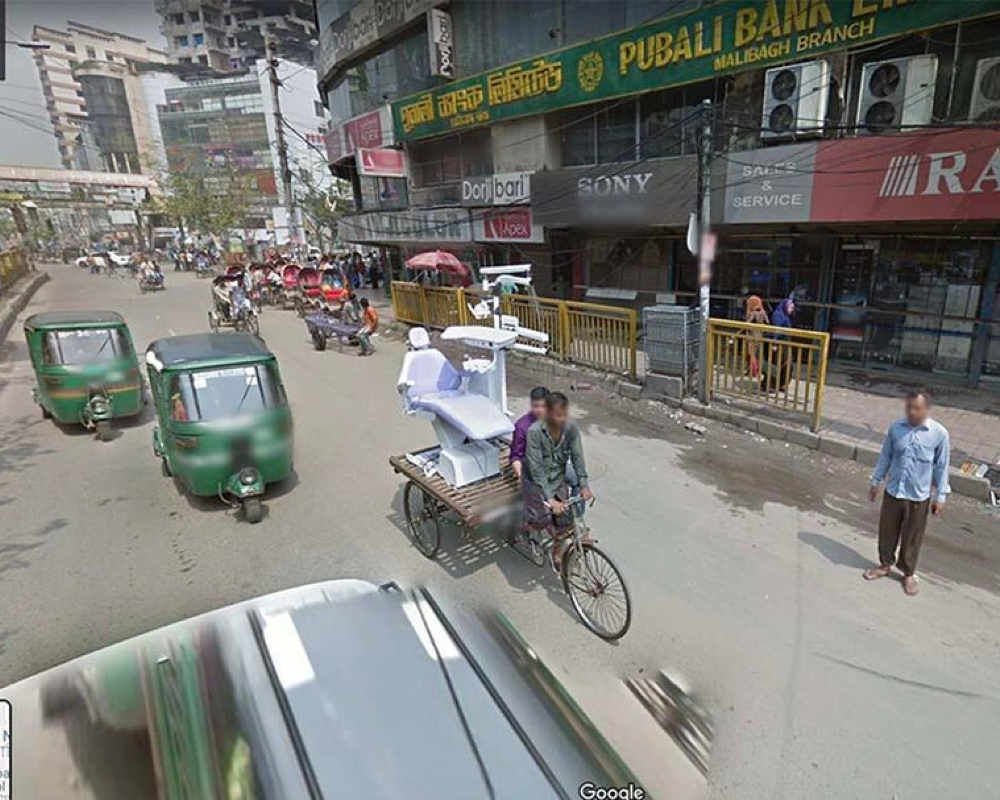 We think they have a different way of doing things there. There's also a chance that they were merely transporting it to an actual dental clinic. Regardless of their reasons, this is something that you definitely don't see every day.
Royal Wedding
We have a feeling that you already know where this picture was taken. We mean, where else can you see something as royal as this? In a country that's simply infatuated with pomp and circumstance — the UK, of course!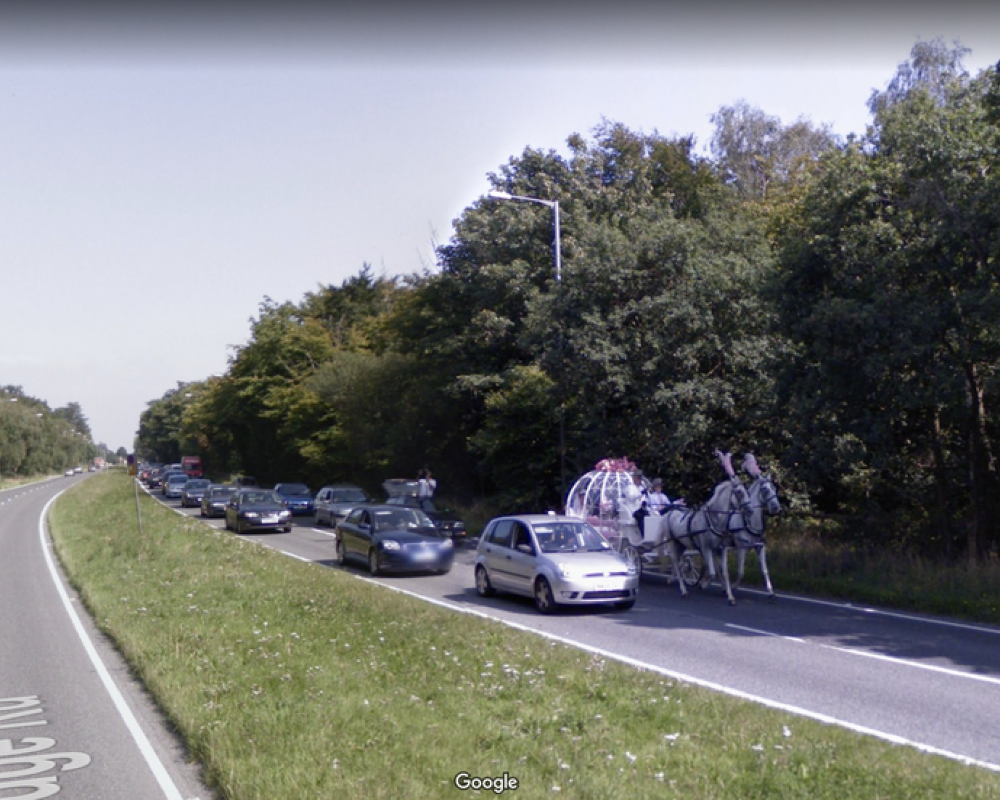 It definitely looks like this carriage was on its way to Buckingham Palace. What's even more surprising is that no one seems to dare to bypass them. That's some respect.
Scarecrow Field
If you've ever visited a Scandinavian country, then you probably know how cold and gloomy it is there most of the time. So, you wouldn't be surprised to find out that this picture was taken in Finland.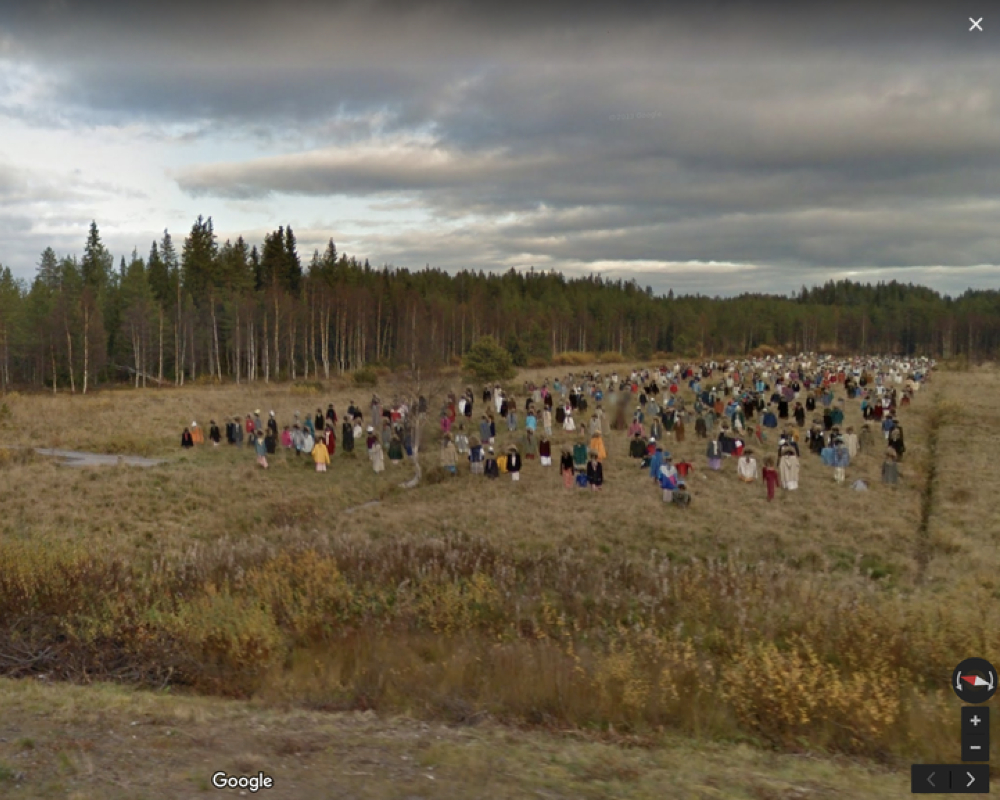 There are some 1,000 scarecrows in that field. But, before you freak out, let us tell you that they're technically a work of art by the Finnish artist Reijo Kela. This is creepy, but also cool!
Urban Diving
People are weird, no matter where they're from. That's just a fact of life. These two were caught on the Google Street View car camera in Bergen, Norway.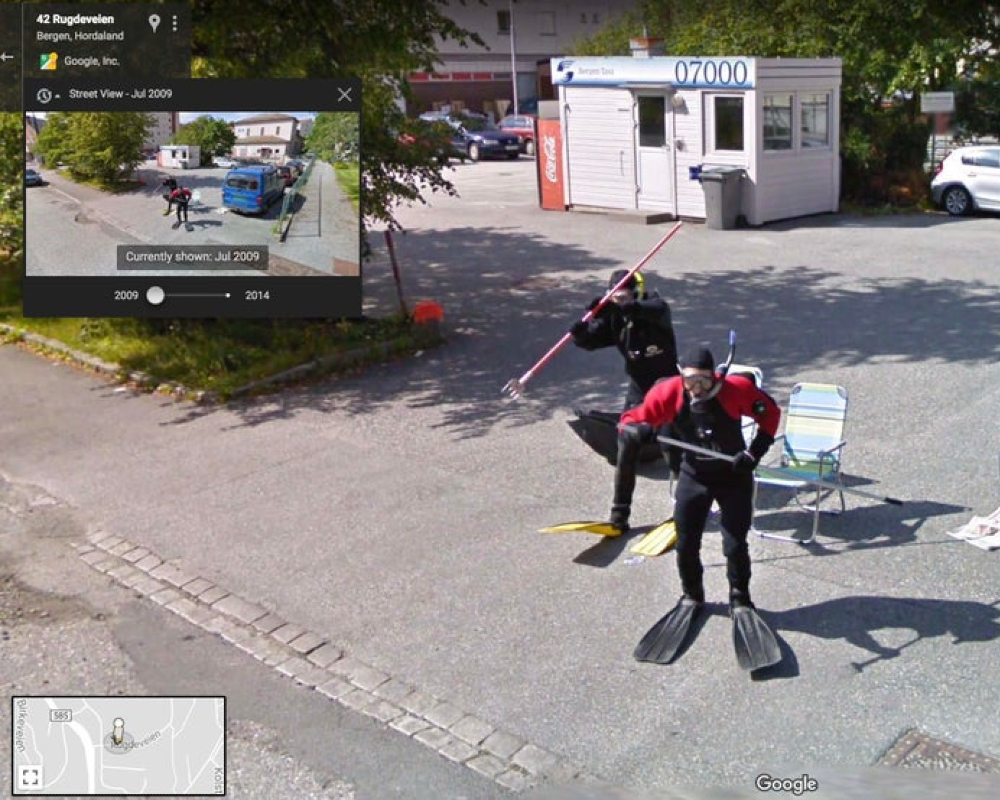 By the looks of it, they were just sitting in their beach chairs, fully dressed in scuba diving gear. The only problem we see here is that it seems they were pretty far from the beach. We're not entirely sure what these two were up to.
Random Seagull
Sometimes, you just happen to be at the right place, at the right time. It's all about the timing. In this case, the Google Street View car caught this majestic bird on camera exactly when it was in low mid-flight.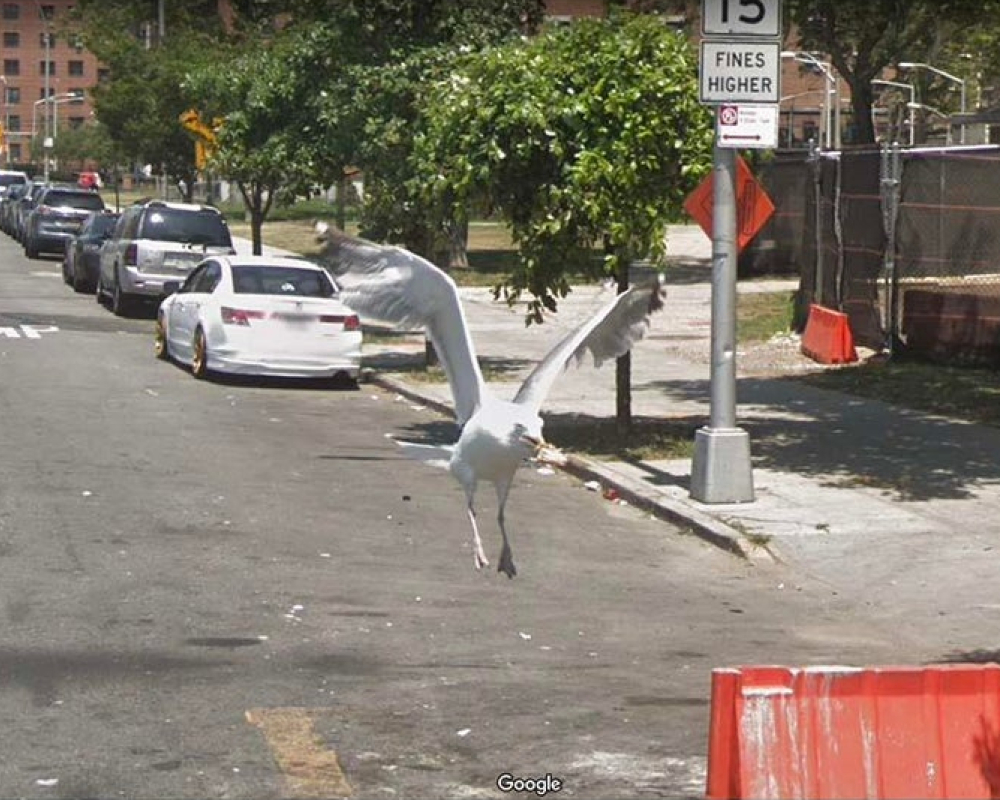 By the looks of it, this photo was actually taken somewhere in the US. It's hard to tell where exactly, but chances are that this was in one of the coastal cities.
Bow and Arrow
This is something we thought that we'd only see in cartoons. Apparently, even cartoons draw inspiration from the real world. This picture was taken in Wallingford, Connecticut.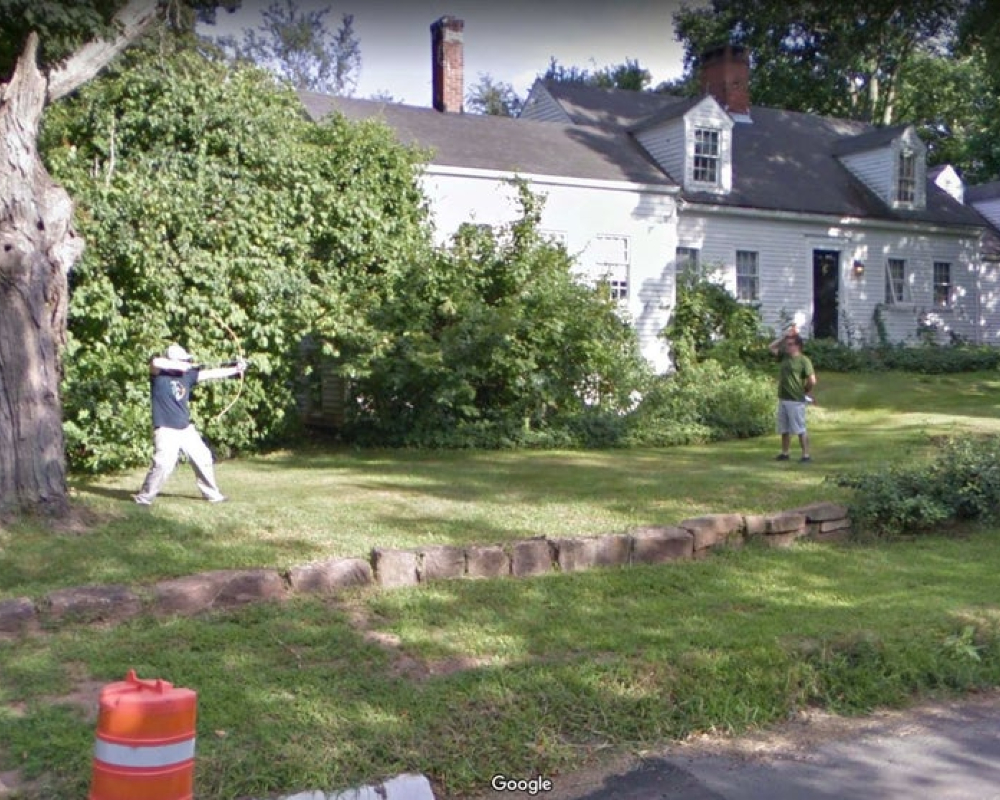 These two fellas were caught in the act. We can't tell for sure what's the guy in the green shirt is holding above his head, but we're guessing it's an apple. We just hope no one got hurt in this incident.
Artist at Work
In our digital times today, it's easy to forget that sometimes real art means going out into nature and doing what this guy is doing. This was caught on camera in Kensington Gardens in London.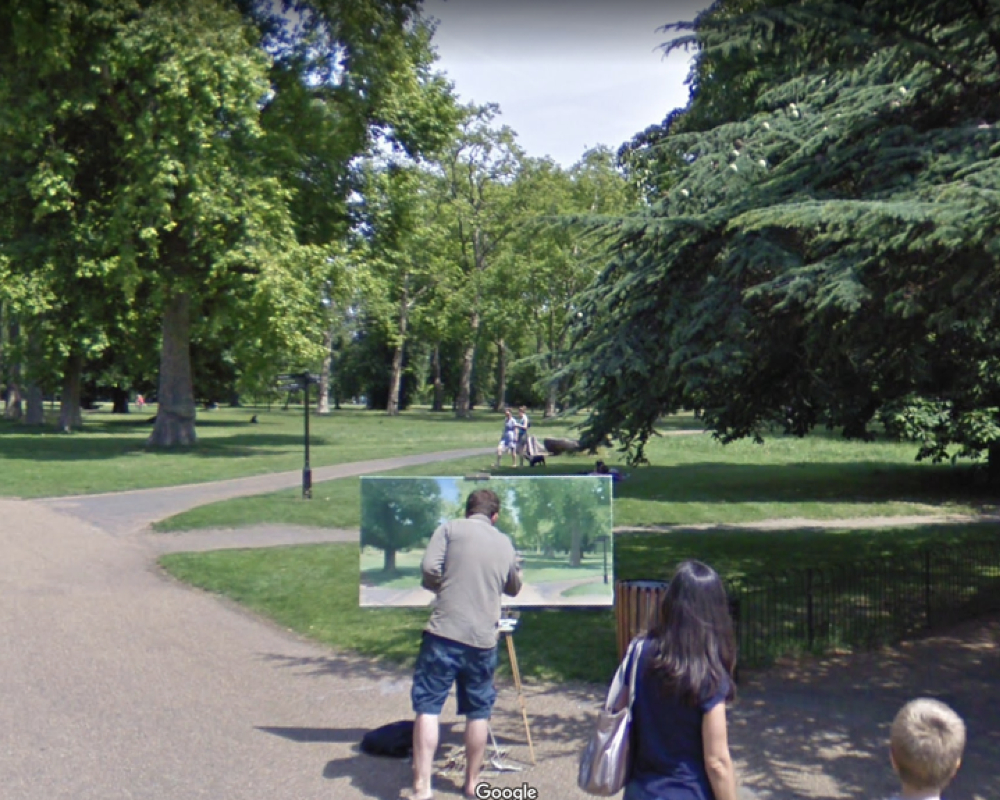 In case you didn't know, these gardens are one of eight royal parks located in London, and they span across 265 acres. They're also home to many squirrels and other small animals. If you get a chance, you should visit it the next time you're in London.
He Is Everywhere
This is just a glitch in the matrix. This guy appears at two places at once in this photo. How's it possible? Does he know something we don't? This picture was taken somewhere in India.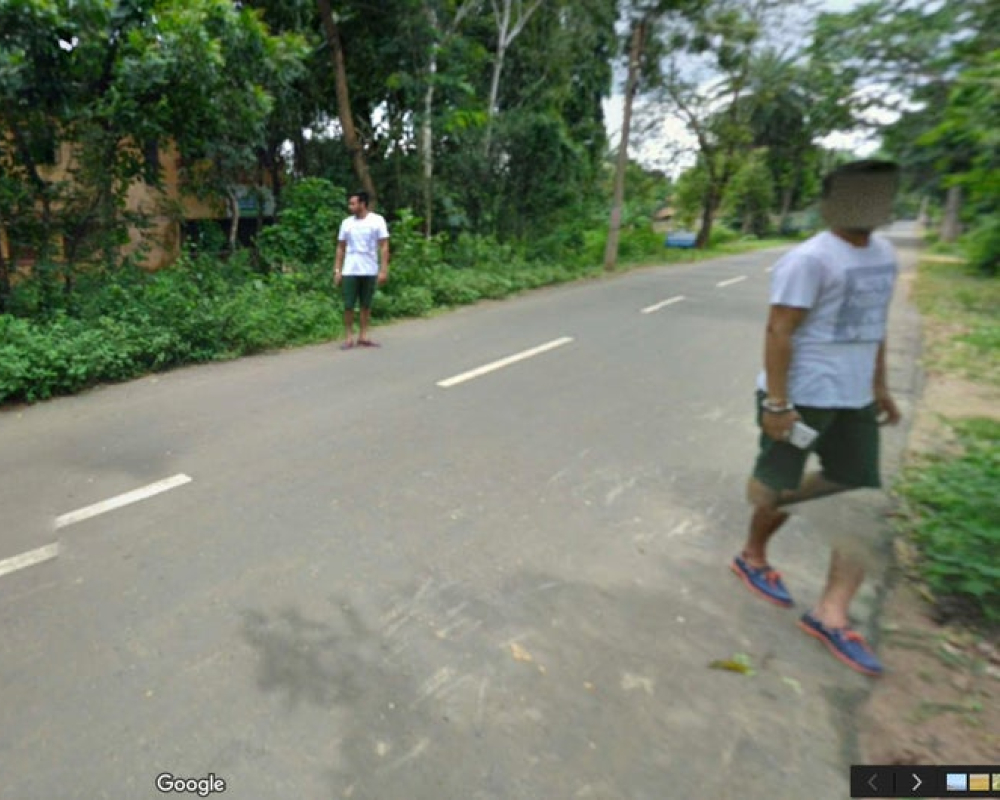 We're just messing with you. Google Street View car has a 360-degree camera that captures everything at the same time. There's a chance that he just changed locations when the car was passing by, and that's why he appears twice.
Bagel Thief
If you're from Houston, and a bagel was taken from you, chances are we found the culprit. Surprisingly, they're not human. This dog seems to like his bagels very much.
We counted at least 10 stolen bagels or doughnuts. We didn't know that dogs like carbs. But, on the other hand, this makes sense. Who would say no to carbs? We hoped we helped solve a local mystery.
Another Day in Florida
An alligator isn't something you'd randomly expect to see, unless you're from Florida. In Florida, alligators are a common sight. Just how common? Some are treated as pets, even when they parade the streets in the middle of the day.
In any case, this picture was taken in Everglades, next to a canoe rack. We're pretty sure this alligator was simply minding its own business when Google Street View car just happened to pass by.
Dinner Time
Nature is beautiful. This is especially true of the northern parts of Russia. Those areas are rarely visited by humans, which mostly leaves them in a pristine state. So, no wonder you get amazing pictures such as this one.
This bear here was getting ready to feast on fish, possibly salmon. The bear seems to be a little surprised by the sudden presence of humans. We hope it didn't feel like they were trying to steal its fish.
Oh, Deer!
Florida has alligators, and Norway has, well, deers. This one looks just like Rudolph the Red-Nosed Reindeer. We guess that's pretty common to spot deers running across the highways in the fjords.
This one was spotted right when the Google Street View car was taking photos. We don't know who was more surprised — the people in the car or the Rudolph here. We hope they both got home safely.
A Man and His Bird
This is just another day in Portland. This guy was spotted taking his cockatoo on a walk. We're surprised at just how he managed to do it. The bird appears to be very docile. It's not chained or anything.
We guess that birds don't like to feel caged all the time. It's nice to see how this man takes care of his pet. Birds need to stretch their muscles from time to time, too.
Bear Costume
We always knew that people in Alaska are weird. It could be the cold weather that makes them a little loony. This picture was taken on Fish Lake Creek.
We don't know why this person is sitting in a bear costume on their porch in the middle of the day, and for some reason, we don't really want to find out. It feels a little sinister. We hope that the Google team who took this photo made it home in one piece.
Surprise!
This is certainly not something we'd expected to see on Google Street View. The person who's standing on what might be the fire escape, or just a metal balcony, appears to be dropping something.
We have a bad feeling that this isn't confetti. This could be just litter, though. We don't know what their dill is. Why drop litter on a passing car? Maybe they didn't like the fact that someone was taking their picture.
Mad Scientists
This is just another day in the suburbs. Two mad scientists are plotting to take over the world from their home garage. Nothing to see here folks, go home. And what's up with the heart sunglasses?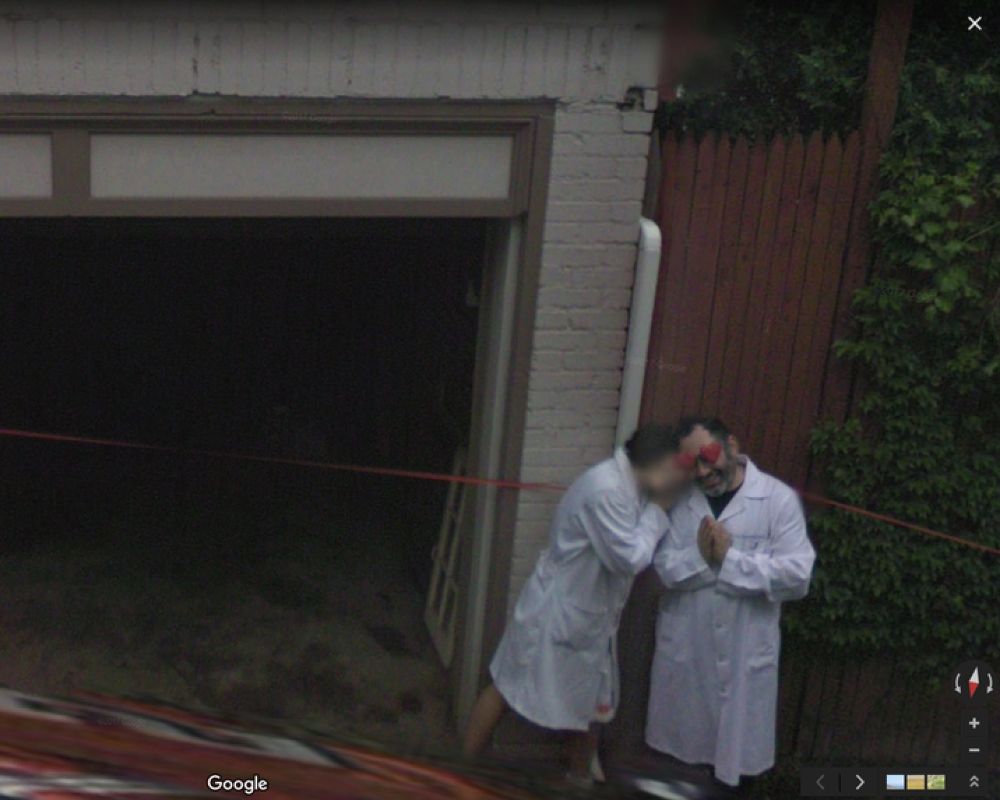 Are these two lovebirds? What's a better way to spend a romantic weekend if not by plotting how to take over the world together, right? We hope there's some logical explanation for all this.
All-Terrain Combat Transport
Star War fans, this one is for you. You probably recall the AT walker from the movie. These beasts were used by the Imperial Ground Forces. Looks like one was abandoned right outside this house in Raleigh, North Carolina.
This makes it an easy target for the rebels, no? We're are transmitting the coordinates now. We recommend that you clear the blast area, because things are about to get hot down there.
Forever Alone
There are a lot of things that you could say about Canadians, but normal is not one of them. This guy in Victoria, British Columbia, was spotted by the Google Street view sitting next to a table topped with a pot of flowers.
The dude — who's wearing a horse mask and holding what looks like a banana — is accompanied by two plastic flamingos. Was he waiting for the love of his life or something? This is just so random. We're curious to know what his deal is.
No People
For the past decades, Japan has been dealing with a severe problem — its population is dwindling at an alarming rate, especially in rural areas. Young people move out of Japanese villages to the big cities, while the older generations slowly pass away.
This leaves many villages empty, if you look closely you'd realize that these aren't real people, but rather dolls. They were left by Japanese artist Tsukimi Ayano in Nagoro, Japan. They're meant to represent all those who left her village or passed away.
Maze Runner
Someone created this cool entrance to a cornfield in Edmonton, Alberta. That's ingenious, we have to admit.
If they already own the cornfield, why not make some money out of it by turning it into a maze? We just love capitalism. Getting in is the easy part. Getting out, however, is a whole other story.
The Stig
If you've ever watched Top Gear, the British show focusing on cars and motor races, you'd probably recognize the persona in the racing suit by the side of the road near Loch Ness.
We have no idea why on Earth he would just stand there, practically in the middle of nowhere. We're not even sure it's him. It could be just someone else who's dressed like him.
Going Home
This picture was taken outside Roswell, New Mexico. There's nothing but desert around that town, for miles. This woman was seen wearing a dress and high heels, carrying a suitcase.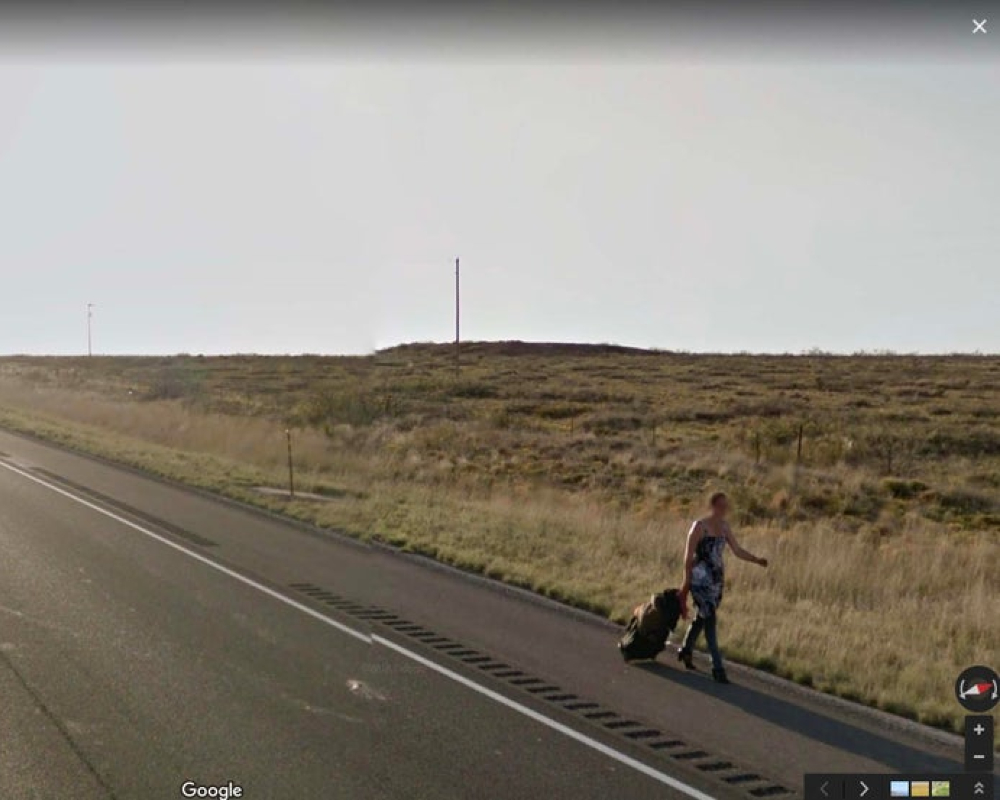 Is she back from her vacation on a different planet? You know what they say about Roswell, New Mexico. That's where, supposedly, in 1947, a UFO crashed. Since then, there were numerous reported sightings of flying saucers in that area.
Fraternity Prank
Covering someone's belongings with toilet paper or filling their locker with toilet paper is a common high school or college prank. Looks like someone did the same to this house in Wisconsin.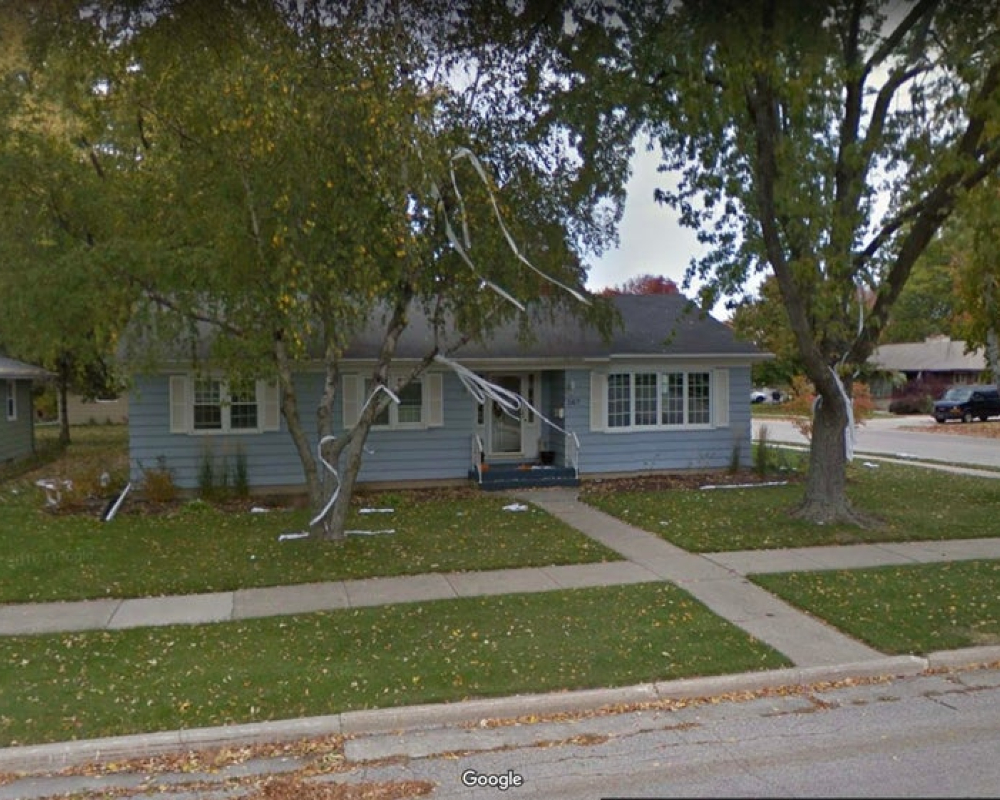 We wonder what did they do to deserve that. Our guess? They stole Wi-Fi from their neighbors. Clearly, they messed with the wrong neighbors. Next time we recommend that they get their own Wi-Fi. But, you have to admit, it's kinda funny to see that.
Sedan Delivery
If you're in the mood for pranks, here's another one for you. Someone in Santa Cruze, California, wrapped this silver Sedan in plastic. That's the true meaning of delivered by car, we guess.
We would like a Ferrari, a red one, please. Too bad it doesn't work this way. But, this is a really good prank, don't you agree? We hope the owner wasn't too upset about it. All you need to do is unwrap it.
Welsh Wedding
We hate gate crashing, but we just happened to this one of Google Street View. This looks like a wedding. The photo was taken in Cardiff, Wales.
We have to admit, though, that it looks like a pretty random spot to celebrate one of the most important events in the lives of these young people. This was taken in 2008 by the way, and some six years later, the place was converted into a Subway restaurant.
The House Is on Fire
Some photos were simply taken at the right moment. This is the case here. A Google Street View car was passing by in Sherwood, Arkansas when its camera caught this. The house was on fire and the brave firefighters were trying to put the fire out.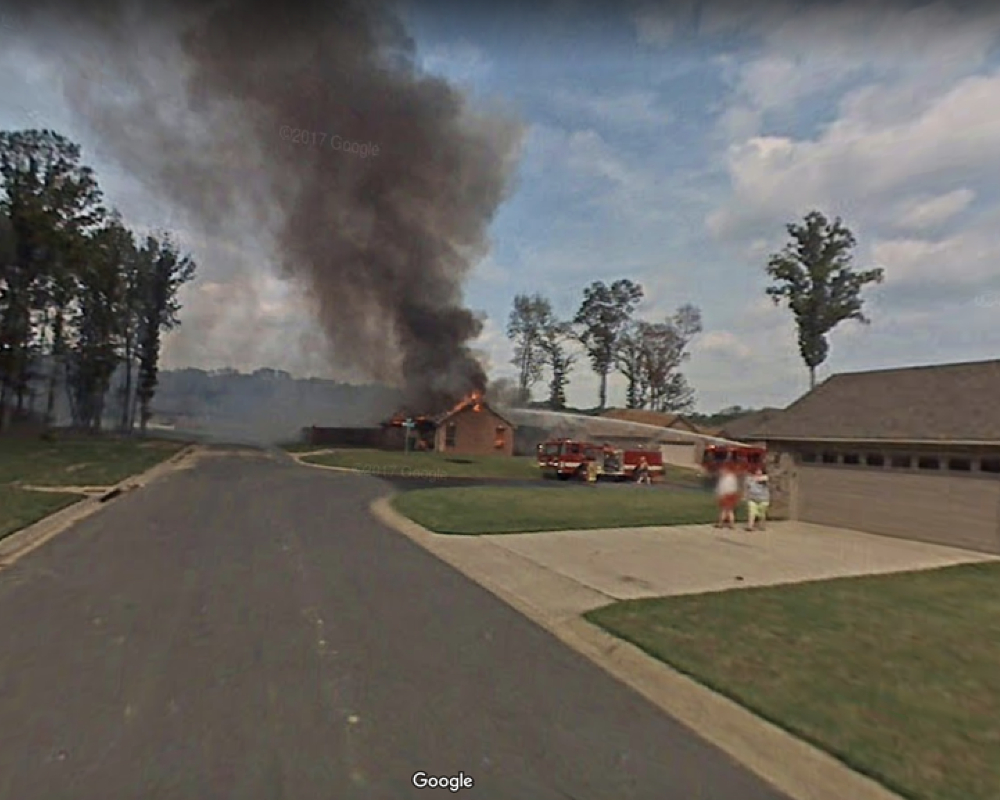 We hope no one got injured in this incident because it looks like it was a pretty big fire. Also, we hope their insurance will cover the damages.
Kyoto Style
Now, this is something you don't get to see every day, unless you're living in Japan. This picture was taken near the Shimogamo-Jinja Shrine in Kyoto, Japan. Just to give you some background, this is one of the oldest shrines in the country.
Apparently, this is a traditional wedding procession. In case you were wondering, the shrine was erected in 678 during the reign of Emperor Tenmu, the 40th emperor of Japan.
Happy Halloween
Before you run to call the cops, let's begin by saying that this photo was taken in October, in Chicago. This is both spooky and cool at the same time. We wonder how other passersby reacted to this.
If we were them, we would have called the police straight away. On second thought, maybe calling Ghostbusters would be a better idea. Anyway, we wouldn't want to risk it and get anywhere near that house.
Missing Limbs
This looks like a glitch in the Matrix, proof that none of it's real and that we should just wake up before it's too late. This was taken in Anchorage, Alaska.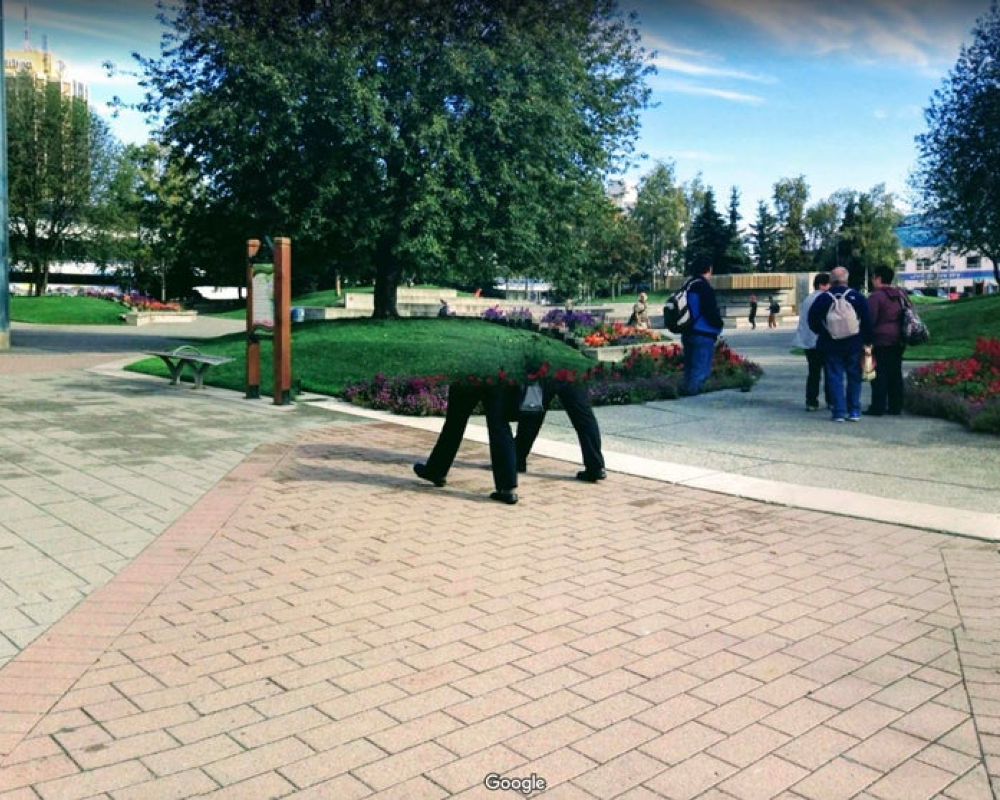 If anyone saw two pairs of legs just walking by themselves, please don't hesitate to call our hotline or man in black to get your memory wiped out. We're kidding, this is just a camera trick. It happens all the time, no?